Client Testimonials
Client testimonials are truly special to us. All members of our team cherish all genuine feedback. We know everybody is busy, but we sure want to know how we're doing directly from the customers whenever possible.
Over 40 percent of our new business sometimes comes from satisfied customer referrals. And the repeat business percentage is pretty darned high, too. We're proud of that. Very proud. We always strive to make all our customers glad they chose Home Exterior Systems.
How'd we do?
What's all the buzz about Home Exterior Systems (HES)? Find out what our customers are saying about us!
NOTE: If you are an existing client that we've just completed work for, please take a few moments to rate your job satisfaction here!
In Their Own Words…
Hello,
I just wanted to let you know that I am very satisfied with the work that HOME EXTERIOR SYSTEMS did at my house.
From start to finish, the overall experience was very much PAIN-FREE.
(1) The initial meeting with sales representative BART was very informative.
(2) The proposal was very well put together
(3) Scheduling by LESLIE HAWKINS was well done. HOME EXTERIOR SYSTEMS went the extra mile to accommodate my scheduling requirements due to COVID-19.
(4) Work add-ons due to my choice, were easy to make sense of.
(5) Installation foreman GEORGE was very helpful in answering any questions I had on the first measurement meeting.
(6) The installation crew was very professional and answered my questions as the installation was being done.
(7) Clean-up was done very well.
I may have missed some items that should be mentioned; sorry about that.
KUDOS TO EVERYONE INVOLVED @ HOME EXTERIOR SYSTEMS
— Tommy C., Houston, TX
About Guild Quality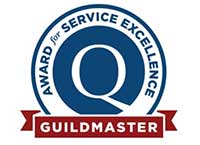 One of the tough things about reviews and ratings, especially for small businesses like ours, is sorting out who you, the customer, really trust. Trust is hard with all the rumors about fake reviews and ratings. It angers us that unscrupulous "Chuck in a Truck" companies can buy fake reviews on this service. Reviews they did not earn were written by people who don't exist!
Independently Collected Ratings
We choose to have most of our reviews conducted and audited by a 3rd party independent outside agency: Guild Quality. We do this for several reasons, but at the end of the day, we sometimes make mistakes. We are not perfect. And without real honest feedback, we may never know about our mistakes. People sometimes find it easier to share their opinions of us and our work with outsiders.
Local home repair radio personality Tom Tynan on why JH and HES.
The top homebuilder chose HES to replace the siding on his home.