The Inspiration Behind HES's Lifetime Plus™ Roof
HES's new Lifetime Plus ™ Roof product offers unsurpassed peace-of-mind for homeowners in the Greater Houston area who want maximum protection against roof failure due to wind damage. One customer summed it up this way, "it's not enough to be insured, I don't want my roof to fail in the first place. Insurance doesn't compensate for the horrible experience of having your home suddenly open to the elements."
We would like to share our own frightening true story behind our personal experience with roof failure during Hurricane Ike, the reason why we developed the Lifetime Plus™ Roof product.
The Inspiration
The inspiration for the Lifetime Plus™ Roof is born from one of the recent Gulf Coast Hurricanes: Hurricane Ike. The Texas coastal area experiences high-winds and widespread flooding on an increasingly regular basis. For Pat McCollim, a co-owner of Home Exterior Systems, Ike stands out a little more than some recently named storms.
Hurricane Ike
Hurricane Ike made its final landfall near Galveston, TX, at 2:10 am CDT on 13 September as an intense Category 2 hurricane (it had sustained winds of 110mph, just one mph shy of Category 3 status), with a Category 5 equivalent storm surge. Hurricane-force winds extended 120 miles (193 km) from the center. It is the 7th costliest hurricane at $37B in damages and death toll of 103 lives. The wind damage took out much of the power to homes across a wide Greater Houston area for weeks. Cell towers went dark, and gas stations couldn't pump gas without electricity. Wind, and driven rain, damaged thousands of Houston area homes.
It's Raining Roof Parts
Pat McCollim recalls looking out the window during the big storm and saw debris flying around outside. "I noted that somebody is losing parts of their house, stuff they're going to miss," he said. "Upon closer examination, it became clear that the debris field of building materials was roofing. Someone has lost part of their roof! It wasn't long after that when it quickly became apparent that parts of MY roof were now sitting in the yard!"
You Don't Expect It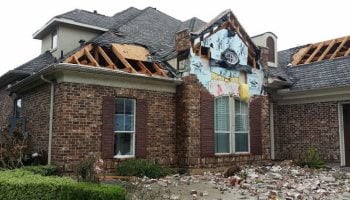 "How could this be, he thought to himself. I'm in the business, how can I have roof failure? What happened?"
With the failure of the roof system, moisture intrusion follows. First into the attic where it soaks into the insulation, then wicking its way into upper floor ceiling in the form of spots along rafters and around fixtures. "It's a mess," says Pat.
The Water Gets In, It Gets Messy
"You don't expect your roof to fail, especially on a newer home. It messes with your head. You find yourself asking how you could avoid roof failure in the future. Sure, you have insurance to cover the damage, but who wants to deal with all this? What if you want a roof that is guaranteed not to fail? I want that roof. I bet other people would want that roof too."
We Need A Better Roof Solution!
"I decided then and there; we needed better." Pat decided that his company needed to understand how these roof failures happen. Learn how to spot shoddy installations and educate homeowners about them. Finally, we need to work with our manufacturers on a recipe for a roof that will stand up to high winds.
Result: The Lifetime Plus™ Roof by HES
The HES Lifetime Plus™ Roof features a selection of high-end GAF components. Including Starter Strip, Ridge and Valley components, which are part of the GAF HDZ Lifetime System. This Roof installation is *TDI Approved for the coastal wind zone installations too.
GAF is among the most recognized roofing materials companies in the world. The warranty on this roof is unsurpassed.
If you should find yourself in need of a roof that looks fantastic, and guaranteed to stand-up to Texas inclement weather, please give us a call.
In the meantime, check out our residential roof replacement services.
---
* Texas Department of Insurance, https://www.tdi.texas.gov, the body responsible for regulating standards, such as Wind Load, for construction along the Texas Gulf Coast.
---