Honoring a 150 Year-Old Home
Honoring a 150-year-old exterior home renovation the HES way means many things. At least partly, it means being responsible for preserving the legacy of the past. And appreciating that we are likely doubling or even tripling the useful life of this grand old home.
A Challenging Privilege
The Heights has so many historic homes, many of which are a century old or more. HES recently enjoyed the privilege – and challenge – of working on another elder home near the gulf coast. A home built nearly a century and a half ago.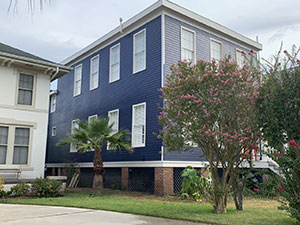 A Lot Has Changed in 150 Years
Construction methods, materials, and mindset were quite different in the mid to late 1800s. The nails were long and square; lumber was large.  The builders exhibited care during construction, and they built homes with craftsmanship and pride. Detail and trim were placed in areas now passed over and left blank. Times were different, and construction has changed.
The Testimonial of Time
Technology, building products, and building science have improved, and in turn, so has efficiency and comfort. We love the opportunity to work on older homes—we view it as an honor. We count it a privilege to open the walls and look back in time and uncover some details about quality construction in a bygone era. This home has allowed us to discover and learn about its construction and how those methods and craftsmanship have allowed it to stand firm and survive the test of time.
A Great, But Welcomed Responsibility
It is extraordinary that this house is in Galveston, TX. If you remember your history, that means it survived the Great Storm of 1900. Unfortunately, the Great Storm took many lives and homes, and yet this home still stands. We count ourselves fortunate to have the honor to open its walls and give the same care and craftsmanship those original builders gave so many years ago, thereby allowing it to continue to stand firm for many years to come.