Why Avoid Storm Chaser Contractors?
It's that time of year once again when Houstonians see named storms in the Gulf. If one or more storms do make it to our area causing any measurable damage, we can expect one thing for certain: storm chaser contractors.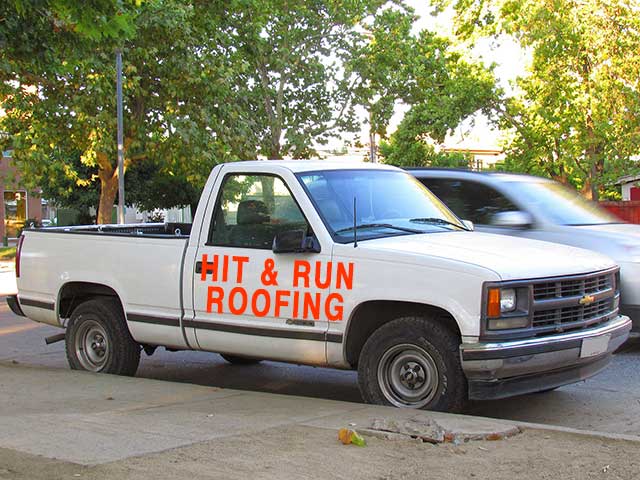 What Exactly Are Storm Chaser Contractors?
We thought we'd take a moment and point out the nomadic roofing and fencing opportunists known in the industry as "storm chaser contractors," and why you should avoid them. Here's why: storm chaser contractors focus on insurance jobs. They are proficient at arriving into areas recently hit by hail storms, driven rain, flooding, or substantial wind damage.
Opportunists Following Weather
Storm chaser contractors in the roofing trade are opportunists that go wherever heavy hail storms have hit and begin to knock on doors. The storm chaser works door to door to get the all-important first homeowner to sign-up for an ( insurance deductible ) new roof. Once they have a contract in hand, they move on to all the neighbors. Their salespeople claiming to take care of everything for the cost of your insurance deductible. The whole process, of course, is convenient for the homeowners, and well, why not? They are polished and very convincing. They talk the talk complete with a portfolio of photos and the promise of taking care of everything.
Why You Should Use A Local Roofing Company
The biggest reasons not to use a storm chaser contractors are accountability and warranty. You are quite likely going to get an inferior product, if not outwardly scammed. Should you have a problem and you need your contractor to fix something, your storm chaser contractors are long gone. They are likely 2-states away and chasing the next storm. The manufacturer is very unlikely to honor any warranty claim you submit. The insurance company will be out of the deal too. You are so much better off by choosing a local contractor. But also do your homework to be sure you are getting quality materials and proper installation.
Doesn't My Insurance Company Check Out Contractors?
One additional point regarding insurance companies. If you believe your insurance company will audit the roofing companies or the work they perform, think again. On the one hand, insurance companies are doing their best to minimize ripoffs and fraud. However, they must also act swiftly after disaster strikes. The insurer is in a tough spot. They must balance their diligence against unscrupulous contractor claims and trying to get your roof fixed asap. Don't depend on your Insurance companies to vet your roofer! Take the reins and do your homework. Be sure you are getting a reputable local company installing quality materials using best practices. A company like Home Exterior Systems serving the Greater Houston area.
Not All Storm Chaser Contractors Are Bad
When a real disaster situation strikes any area leaving thousands of trees down, power disruption, wide spread damage and destruction, reputable contractors from outside the area are invited by local officials. Trade organizations will put out the call for help when local businesses are overwhelmed. So how do you tell the difference? Check them out. Make a few calls. Trade and customer references. Visit their website and social media pages. Check on their credentials to be sure they are legit.
Now You Know
Hopefully we in the Houston, TX area will catch a break and this will all be moot for awhile. We're knocking on wood! Be safe!
---
Subscribe to our newsletter!
[newsletter_form lists="undefined" button_color="undefined"]